Discoveries, explorers and rulers of the sea at Naveluna
Posted by: aragonbilingue | on julio 13, 2016
A small project about the discoveries and explorers of the Early Modern Era in Social Science. The pupils could choose their task: a storyboard, a fictional diary or an oral description of a painting.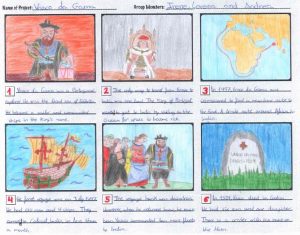 There is a presentation that summarises the work of the students. You can download it in the following link: Students work Sociales Naveluna 2
This project was part of an interdisciplinary one built around Mathematics and Astronomy, called Naveluna, at IES Pedro de Luna, Zaragoza.