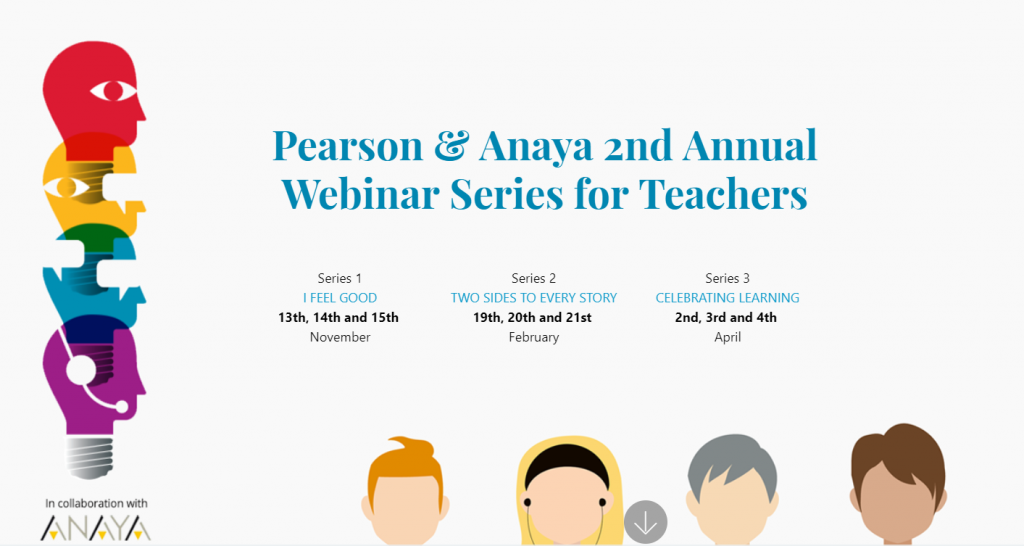 PROGRAMME SERIES 1
I FEEL GOOD
We live in an increasingly stressful and fast-paced world and the classroom is not immune from its effects. But recent research shows that learning to be mindful can help focus our attention, make us more compassionate and aware of others and help us be more present in our surroundings and the task at hand. In this series of webinars we will look at the positive benefits this can have for teachers, students and schools.
Tuesday, 13th November / 18:00 – 19:00 or 19:30 – 20:30 La gestión del estrés a través del mindfulness en el ámbito educativo (Gema Menéndez)
Wednesday, 14th November / 18:00 -19:00 or 19:30 – 20:30 Bilingüismo para el bienestar (Fernando Trujillo)
Thursday, 15th November / 18:00 -19:00 or 19:30 – 20:30 Making students feel good about themselves (Michael Brand)
PROGRAMME SERIES 2
TWO SIDES TO EVERY STORY
Controversies abound in just about every aspect of life and teachers will certainly agree that education is no exception. Whether we are talking about the pros and cons of technology in the classroom, or the benefits of games or a bilingual education everyone has an opinion. Let's take a look at some of these differing views and consider where we might find some firm, common ground.
Tuesday, 19th February / 18:00 – 19:00 or 19:30 – 20:30 Keeping it real in a digital world (Phil Warwick)
Wednesday, 20th February / 18:00 -19:00 or 19:30 – 20:30 The challenges of CLIL (Susan House)
Thursday, 21ST February / 18:00 -19:00 or 19:30 – 20:30 Fun and challenge in the young learner classroom (Shay Coyne)
PROGRAMME SERIES 3
CELEBRATING LEARNING
As we begin to close out the school year, join us as we celebrate the gains we have made with our students and share some great activities and trends that will put it all into perspective and help us close out the year with a bang

.
Tuesday, 2nd April / 18:00 – 19:00 or 19:30 – 20:30 Play with Pronunciation! Making pronunciation fun at primary (Elizabeth Beer)
Wednesday, 3rd April / 18:00 -19:00 or 19:30 – 20:30 Replicating the real world in the secondary classroom (Brian Engquist)
Thursday, 4th April / 18:00 -19:00 or 19:30 – 20:30 Let's get them thinking! Working with HOTS (Katharine Scott)